Plane crash
Reports in RealAudio:
06.12.1997

The story in Russian from the local media "Inta-radio"
08.12.1997

The story in Russian from the local state radio IGTRK
08.12.1997

Interview with the Prime Minister of Russia, Victor Chernomyrdin

---
Web page in Russian about this plane crash (Author-Dmitry Taewsky,"Business Net-Irkutsk")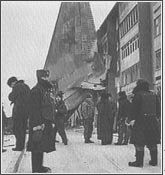 On the 6th of December at about 2 PM local time, a huge transport plane, AN124 "Ruslan," crashed into the residential section of Irkutsk.
The Antonov-124 four-engine aircraft, one of the world's largest planes, crashed about 20 seconds after taking off from the airstrip at an aircraft factory in the industrial town of Irkutsk-2, a satellite city of Irkutsk.
This flight was scheduled to go to Vladivostok in the Russian Far East, then on to Vietnam. In the evening hours, rescue teams searched the debris for casualties after firefighters had extinguished the blaze.
To the best of my knowledge, a number of people were burned because the plane was carrying a full load of fuel- more than 100 tons. One house is destroyed completely, and several other houses were damaged by fire.
---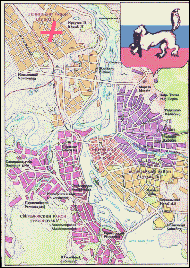 The plane crashed into a residential building in Grazhdanskaya Street in the district called Irkutsk-2, Aviazavod. It crashed right after take-off from the Airplane Factory's internal airport and fell onto the district inhabited by the employees of the plane factory.
The location of the plane crash is marked with a red cross on the map shown here. Click here to see a more detailed map.
---
Injured people were taken to Irkutskaya Bolnica and to Irkutskij Ozhegovyi Center. Residents of the damaged houses are not allowed to go into their homes. Collection of warm clothes for them is being organized.
The telephone hotline number in Aviazavod for information about the crash and victims is +7 (3952) 322913
You can also try +7 (3952) 38-53-76. Speak in Russian, please.
Condolences and support telegrams to the victims and questions concerning donations can be addressed to REGIONAL CLINIC N1 YUBILEINY 100 IRKUTSK RUSSIA
---
Attention! An account for donations has been opened. Please make bank transfers to

SAVING BANK OF RUSSIAN FEDERATION
(IRKUTSK OFFICE N 5899, LENINSKI DISTRICT)
Correspondent account with the Bank of 
New York N 890-0057-610

BENEFICIARY

Name:           AVIAZAVOD, ACCOUNT FOR DONATIONS
Account Nr.     300900001

Memo: FOR VICTIMS OF ANT-124 CRASH

This account belongs to Irkutsk Plane factory, more information at (3952) 323916

Condolences for this catastrophe from all over the world to our web site.
World media information about plane crash

CNN (lots of images)


Reuters


Los Angeles Times

Our PhotoReport
© All photos are Copyrighted by Business Net-Irkutsk
To see larger picture click the image
---
.

Back to WWW Irkutsk homepage
© Fedor Babanine, webmaster (webmaster@icc.ru)
January 11, 1998