December 6, 1997 Web posted at: 6:35 p.m. EST (2335 GMT)
IRKUTSK, Russia (CNN) -- A huge Russian military transport plane crashed into a residential area of the Siberian city of Irkutsk-2 Saturday, killing at least 46 people on board and as many as 100 civilians on the ground.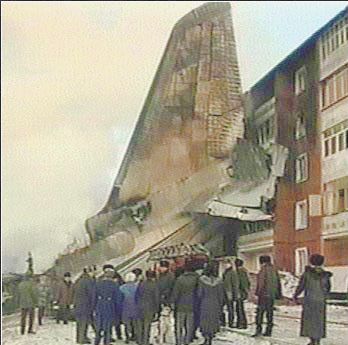 Russian authorities dispatched hundreds of rescue workers and investigators to Irkutsk-2, a satellite town of the city of Irkutsk, about 5,000 kilometers (3,000 miles) east of Moscow.
Russian President Boris Yeltsin has ordered an investigation into the crash. A Russian air force spokesman told CNN that the plane might have crashed because it was overloaded.
Military prosecutors had also begun a criminal investigation into the cause of the disaster. Officials were quoted as saying the probe would focus on the possible "violation of flight rules or of flight preparation rules."
The Defense Ministry said the four-engine Antonov-124 -- one of the world's largest planes -- was carrying 46 crew members. According to the Interfax News Agency its cargo was two Sukhoi jet fighters from the Irkutsk factory for export to Vietnam.
It crashed about 20 seconds after takeoff at about 9:45 a.m. after the two left engines failed.
The plane -- spewing blazing wreckage -- barreled along the town's main street and slammed into a four-story apartment bloc containing 48 apartments, which was engulfed by flames. Five houses were also destroyed.
According to Russian Interfax news agency, the flight was scheduled to go to Vladivostok in the Russian Far East, then on to Vietnam. Weather at the time was described as good.
In addition to the approximately 100 people killed on the ground, estimates were that perhaps another 100 were injured. Rescue crews pulled at least 12 people from the debris and took them to local hospitals. About 150 children from a nearby kindergarten were evacuated.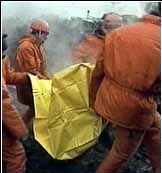 Some 700 firefighters, soldiers and medical personnel with heavy machinery searched for survivors in the surrounding buildings. Rescue teams with sniffer dogs were sent to Irkutsk to assist in the hunt.
The plane had about 100 tons of fuel in its tanks when it crashed and the resulting explosion and fire enveloped the area, according to local officials.
Prime Minster Viktor Chernomyrdin was expected to visit the disaster scene, and Air Force Commander Pyotr Deinekin was on his way to Irkutsk.
Rescue teams reportedly recovered the planes cockpit voice and flight data recorders, which experts hope will contain crucial flight information.
The former Soviet air fleet has been plagued by chronic safety problems since the 1991 collapse of the country and the breakup of the former state airline Aeroflot into some 400 companies.
Experts have blamed poor maintenance, safety violations and cost-cutting for persistent problems, which included nine major crashes over a 10-month period in 1994.
© 1997 Cable News Network, Inc. All Rights Reserved. .
---