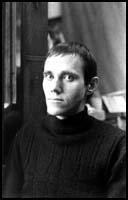 Vladimir Golenev was born in 1951 and graduated from St-Peterburg Art College after Serov and St-Peterburg Higher Art and Design School.

"I am a teacher at the Irkutsk Art College. In 1988 I organised the group SHART. That means drawing, painting and sculpture devoted to Shaman art. The first exhibition was held in January 1990 in Irkutsk".


---

Please send comments to: blib@riaph.irkutsk.su
&copy Copyright by Boris Blisnukov 1996
All rights reserved.