Business in Irkutsk

Check our best business links!

Gateway Travel Russian Travel Agency in Australia

---
How to send money to Irkutsk, Western Union
Go to any Western Union Location or call 1-800-225-5227 in the U.S. or Canada
Send money to Recepient name, Russia
Call or send a telegram to the recepient providing: Your name, your city and country, Transfer Control Number, address of a Western Union agent location in Irkutsk
Recepient in Irkutsk goes to one of Western Union agent locations, presents his ID, and picks up the cash in dollar notes.
Western Union Agents in Irkutsk. For up-to-date information see Western Union Website
Agent Name:
PROMSTROYBANK OF RUSSIA
Address:
OKTYABRSKOY REVOLUTSII STREET
Irkutsk, RU 664011, Tel.: +7 (3952) 334014
Agent Name:
INKASBANK
Address:
34 SHIRYAMOVA STREET
Irkutsk, RU 664075, Tel.: +7 (3952) 351571
Agent Name:
BAIKALUNEXIM BANK
Address:
5 OKTYABRSKOY REVOLUTSII STREET
Irkutsk, RU 664007, Tel.: +7 3952 243156
Agent Name:
ALFA BANK
Address:
38 GAGARINA BLVD.
Irkutsk, RU 684000
---
Nursing and communication with relatives
---
How to make bulky and commercial shipments to/from Irkutsk
We recommend the German truck shipping company Willi Betz. They deliver bulky shipments and containers to Irkutsk within a week, they are accredited with Russian Customs Office, and they have good insurance plans for the shipments. Mention WWW Irkutsk to negotiate a discount.
---
Office rental in Irkutsk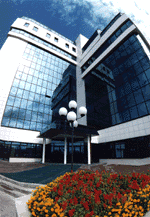 Offices 20-210 sq. m. in Baikal Business Centre, telephone, Internet, canteen downstairs, shared conference room. Inquire at hotel@bbc.ru or by fax to: +7 (3952) 259110. Mention www.irkutsk.org for discount.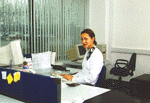 ---
Recruiting the staff
Recruitment agencies:
---
Investment and start-up projects
For an overview of local investment and start-up projects see Website of local administration (in Russian).

Some of the projects listed in the overview:
Baikal water bottling
Export of electrical power
Amphibious aircraft production (Su-31 factory)
Silicon and solar power systems
Fur production and export
Timber production and export
Hotel complex at Baikal Lake
You can contact investments@irkutsk.org for assistance.
---
Key Industry of Irkutsk Region
The following information is not an advertisement, and no responsibility is taken regarding either its accuracy or completeness.
See also Irkutsk Electronic Yellow Pages: Local Industry for other adresses
---
Key sites of Irkutsk Internet providers
Sites are in Russian (KOI8 and Windows cp1251) language.


Business Net-Irkutsk - (largest Internet provider in Irkutsk)


Irkutsk-on-the-Net Webserver -
---
Business in Irkutsk, related links worldwide:
---
List of Banks in IRKUTSK Region

ANGARSKIY 665830, Irkutskaya obl., Angarsk, ul. Lenina 30
BANKB 665017, Irkutskaya obl., Bratsk, ul. Komsomolskaya 43
BAYKALSKIY 664002, Irkutsk, ul. Zhukova 7
BRATSKGESSTROY 665702, Irkutskaya obl., Bratsk, Lazurny per. 13
BRATSKKOMPLEKS 665718, Irkutskaya obl., Bratsk, a/ya 432
GCB 665470, Usoliye-Sibirskoye, Komsomolskiy pr. 89
INTORGBANK 664050, Irkutsk, pr-t Karl-Marks-Stadt 70, blok B
IRKOMSOTSBANK 664006, Irkutsk, ul. Sovetskaya 55
IRKUTSKKOMSOTSBANK 664006, Irkutsk, ul. Lenina 16
IRKUTSKSNABBANK 664000, Irkutsk, ul. S. Razina 25
KEYPTROLLER 664009, Irkutsk, ul. Sovetskaya 109
KLASSIK BANK 664011, Irkutsk, ul. Sverdlova 40
LENAKOMBANK 665780, Irkutskaya obl., Ust-Kut, ul. Kirova 18
PADUN 665726, Irkutskaya obl., Bratsk, ul. Obrucheva 43
RADIAN 664048, Irkutsk, ul. Rozy Luksemburg 184
STARBANK 664003, Irkutsk, ul. Dzerzhinskogo 1
TRUSTKOMBANK 664023, Irkutsk, ul. Dzerzhinskogo 29
UST-ILIMSKII 665770, Irkutskaya obl., Ust-Ilimsk, ul. Mechtateley 21a
VERKHNELENSKIY 665780, Irkutskaya obl., Ust-Kut, ul. Kirova 85a
VOSTSIBKOMBANK 664000, Irkutsk, ul. Rossiyskaya 12
VOSTSIBTRANSKOMBANK 664638, Irkutsk, ul. K. Marksa 7
ZALARIKOMBANK 665370, Irkutskaya obl., pos. Zalari, ul. Lenina 10

Overview of the Irkutsk region
(Collected by U.S. officials)
Located in south-eastern Siberia on the banks of the Angara river, only an hour by road from lake Baikal, but five time zones and 3,000 miles east of Moscow, the city of Irkutsk was founded in the 17th century during Russia's long push east. The city has a population of 635,000 and the oblast 2.8 million. Most of the oblast's population is in the south, while the far north contains "only a few thousand people." Around Irkutsk are miles and miles of forest land, interrupted by a few small villages and farms.
Downtown Irkutsk has attractive 18th and 19th century buildings, but few have been refurbished. A potentially attractive city is marred by disrepair and air pollution. Other than a moderate amount of dacha and mansion building just beyond the airport, there was little new construction underway in the city and little evidence the population had money to spend. Hours spent walking the center of town revealed none of the upscale shops often seen in regional centers of similar size and only a sparse supply of western consumer goods. Food and other necessities (including imported fruit, such as Dole bananas) were in good supply, but were sold by street vendors or by little changed post-Soviet "privatized" stores. Officials said that all but 27 of the city's more than 600 retail establishments had been privatized. Officials said the number of registered small businesses in the oblast had increased to over 12,000 in 1995, but there was little visible evidence of new businesses operating in Irkutsk. Irkutsk had a few small, simple private cafes, but real private restaurants were not in evidence.

Major industries
Irkutsk could build a future around its resources, and its lake. Resources include forests, gold and other precious metals, and large oil and gas deposits. 80 percent of resources are sold on the export market, and transportation costs from Irkutsk are one of the toughest problems the region faces. Key industries are forest product processing (paper in particular), chemicals, machine tools, and aluminum. In addition, Irkutsk could eventually develop a successful tourist industry around nearby Lake Baikal.

Economic situation
Although local officials boasted that the region's economy had been improving for almost a year, new commercial activity and signs of a boom were not much in evidence. Officials insisted that the region's resource-based economy was one of the top performers in Russia, with most agreeing that resource exports and cheap energy were fueling an industrial recovery. Unemployment was described as low, though one official admitted that it was five percent or higher (many people either do not bother to register or find being officially unemployed embarrassing.). Average wages were reported to be rubl 600,000 per month (USD 130), 60 percent or more above the national average, but there was little visible evidence of such strong purchasing power.
Officials later admitted that the industrial picture is not all that positive and acknowledged that the paper, chemical, and machine tool sectors are troubled. Lack of cash strains many large industrial firms, and the 10,000 employee chemical plant in Sayansk, has shut down, embassy officers were told.
Read more details about economy of the Irkutsk region here.

Crime
Deputy mayor Rutina said that, although crime was a problem in the city, it was very low compared to Moscow and the Russian Far East, a view that her colleagues seconded. Embassy officers walked about the city and did not observe any signs of crime, but did not welcome a chance to wander after dark.

Best export prospects
Based on a short visit, Comoff identified several promising export sectors. These include:

consumer goods (particularly processed food and toiletries)
clothing
automobiles
low-cost building products
low-cost computers
pharmaceuticals
Active U.S. companies
Commercial officers detected little U.S. company presence in Irkutsk. The most prominently displayed U.S. brand names were, as is often the case, Mars, Kodak, and Gillette. Local officials claimed nine U.S.- Russia joint ventures. However, one of these turned out to be a Russian company that had incorporated in California as a way to avoid local taxes. U.S. West was described as the most visible U.S. partner in the region. (in contrast, local officials reported 42 Chinese joint ventures, and both Chinese products and many Japanese cars were visible on the streets.)

Key local service contacts include:
Tourist bureau "Intourist"
bulvar Gagarina, 44, Irkutsk, 664055, Russia
Phone: +7 (3952) 296315; Fax: 3952-277872
Airlines "Aeroflot", Phone: +7 (3952) 286277
Hotels
"Intourist", bul. Gagarina, 44, Phone: +7 (3952) 296335

"Angara", ul. Suhe-Batora, 7,   Phone: +7 (3952) 241631

Banks
Irkutsk Joint-Stock Commercial bank
55, ul. Sovetskaya, Irkutsk-7, 664007, Russia
Phone: +7 (3952) 349550; Fax: +7 (3952) 349599
---
&copy 1999 Fedor Babanine (webmaster@icc.ru)