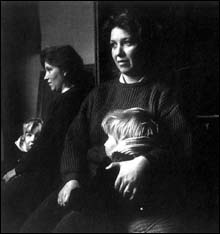 Irina Solovyova was born in 1959 and graduated from Irkutsk Art College in 1980 and Kiev State Art Institute 1986.

Exhibition:

Kiev 1983; Finland, Turku 1990;

"Most important in the life I consider the family and the Art. I belive, Kindness and Fine Art will save the world".


---

Please send comments to: blib@riaph.irkutsk.su
&copy Copyright by Boris Blisnukov 1996
All rights reserved.