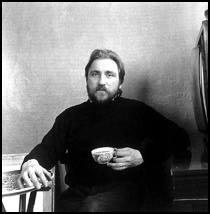 Alexander Moskvitin was born in 1954 and graduated from Irkutsk Art College. He is a Member of the Art Uninon of the USSR since 1985.

Exhibition:

Moscow 1982, 1985, 1987, 1988, 1989; Czecholovakia Prag, Bulgaria Sofia, West-Germany, Italy, France, Great Britan Art Gallery: "Arrow Room", Scotland, Ireland.

"I like: The life of the earth, Siberia. Siberian minorities as thoughtfull part of the Nature. mythology and beliefs of those nations. Plastic equivalent of symbols and signs of those believers. and I try to include them in our reality".


---

Please send comments to: blib@riaph.irkutsk.su
&copy Copyright by Boris Blisnukov 1996
All rights reserved.