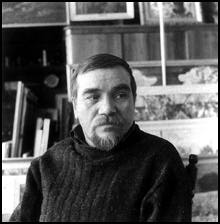 Vladimir Kuzmin was born in 1935 and graduated from Irkutsk Art College. He is a Member of the Art Uninon of the USSR since 1967.

Exhibition:

Moscow 1975, 1976, 1984; Japan, Kanazawa 1973; Mongolia, Ulan Bator 1973; East-Germany, Karl-Marx Stadt 1978, 1979;


---

Please send comments to: blib@riaph.irkutsk.su
&copy Copyright by Boris Blisnukov 1996
All rights reserved.