About myself
I was born on December 12, 1965, in Irkutsk, Russia. Our family consists of my grandmother Nadezhda Petrovna, my mother Galina Pavlovna, my brother Alexei and my cat Murych.
In my childhood I took part in many expeditions around Siberia with mom, who is a reseacher in Geography.
We visited Tobolsk, Tumen, Hanty-Mansiysk, Ekaterinburg and many other Siberian towns. We had very interesting tours every summer. And now I subscribe the wonderful American magazine for travellers, the National Geographic.
After school I entered to the Hydrometeorological Institute in St.Petersburg. There I studied meteorology, sinoptic, aerology, computer science and many others interesting things. In 1984-1986 I was a soldier in the Soviet Army.
My time as a student is the best time of my life. I went on a wonderful expedition with my friends to the mountains of Sayany during that time. This land is called Tophalaria. I finished my studies at the Hydrometeorological Institute in St.Peterburg and returned to Irkutsk, where I was born, in the summer of 1992.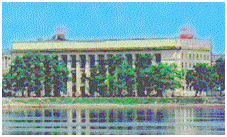 Yamina Silva is my colleague. She is from Peru. We have studied together in the same group.
---
Now I use a wheelchair to move and have some problems with my speech. I go for treatment in our hospital every year. It helps me to feel good.
The computer system is a very comfortable thing. I like it. Now I am working as editor of the WWW-server at our Irkutsk Computer Center, "Business Net - Irkutsk" company.