Sister cities of Irkutsk
Pforzheim, Germany
Contact in Pforzheim:
Manfred Becker, Amt für Jugend & Familie, Zehnthofstrasse 10 - 12, D-75175 Pforzheim, Tel : +49 7231 392087, Fax : +49 7231 392699, Email: doma-becker@t-online.de

Deutsch-Russische Gesellschaft Pforzheim, Katharina Leicht, Baumstr. 2, 75242 Neuhausen, Tel.: 07234 - 980430, Fax: 07234 - 980432, E-mail: KFJLeicht@t-online.de
Contact in Irkutsk:
Nikolai Pavlovich Kashin (Email: nika.irkutsk@altavista.net), President of the Russian-German-Association, Nina Kashina.

You can contact House of Europe, Dekabrskih Sobytii (see their listing on this site for more info.)

Ludmila Kurbatova, Mayor's office, Irkutsk City Administration, 14 Lenin Street, 664000 Irkutsk, Russia, Tel : +7-3952-340869, Fax : +7-3952-36027
Cooperation
Since 1992 the cities of Pforzheim in Germany and Irkutsk in Russia have been expanding their friendly links through the exchange of professional experiences between the city administrations.

In 1999 there were 5 delegation exchanges, including a children's music group from Irkutsk visiting Pforzheim.
TACIS Project
Objectives : To develop social work activity with families. To provide support to problem families through counselling and the development of family advisers. To develop a family-based fostering system.

Methodology : The project is divided into four phases. Phase One: information gathering and analysis. Phase Two: strategic planning for the project, based on needs assessment. Phase Three: training. Phase Four: piloting of new facilities and implementation. Training will be experiential in nature and the project will be continuously monitored. Any necessary adjustments will be made both during and after implementation.

Expected Results : Savings will be made as a result of reducing the numbers of children in institutional care. There will be a data bank for planning youth work and welfare services and a needs assessment methodology introduced. Criteria for the selection of foster parents and an outline of tasks for family advisers will be available. A first draft of an advertisement for foster parents will be prepared. The means of monitoring and evaluating fostering will be developed. Financing for self-help systems will be agreed upon. Social work services will have benefited from the contact with professionals from the same field in Pforzheim. Ten children will be in foster care a maximum of six months after the project ends. Seven family supporters will be working with families a maximum of nine months after the project ends.

Six years of joint activities have shown that Pforzheim and Irkutsk have many things in common, in particular the problems of finding solutions for caring for children without parents.

The system of fostering children gives the opportunity to offer these children services which are closer to "home life." In September 1998 the first ten orphans in Irkutsk will be brought up by foster families under the Tacis project "Family assistance," with help from colleagues in Pforzheim. The project will be implemented on the shores of Lake Baikal, where the orphans will be received by `welcoming' parents. More info on this project from Tacis
---
Eugene, Oregon, USA
Eugene Sister Cities Foundation, Inc.
Almost a decade ago, a dedicated group of Eugene citizens pooled their talents and resources to form the Eugene-Irtkutsk Sister City Committee. An agreement between the two cities - so far apart but with so much in common - was drafted and signed by then Eugene Mayor Brian B. Obie and Irkutsk Mayor Yuri Shkuropat. In the years since, the Eugene-Irkutsk Sister City Committee has enriched the life experiences of people here and in Siberia. We in Eugene have stood firm in our friendship with Irkutsk as political changes wrenched the U.S.S.R. apart. We supported our Sister City as they traded their hammer and sickle banners for the red, white and blue of the Russian flag. Both cities have exchanged many delegations representing the cultural, business, and academic communities in each country.

Contacts in Eugene: Galina Groza, ggroza@teleport.com, Phone: 686-0546 George Davis davisassoc@igc.org

Contact in Irkutsk: Ludmila A. Kurbatova, Irkutsk mayor's office, Phone: 243704, 340893 (Mr. Kushnaryov).
Officials from Eugene
An official delegation from Eugene came on June 1-4, 2001, to celebrate the 340th birthday of Irkutsk.

A small but energetic official delegation helped Eugene's Russian sister city, Irkutsk, celebrate its 340th birthday. The delegation, comprising Galina Groza, chair of the Irkutsk Sister City Committee, Sage Ratterman, a board member of the same committee, and Mary Walston, representing the City of Eugene at the request of the Mayor, as neither he nor any of the city councilors were able to attend, arrived in Irkutsk on Saturday, June 1, after a long trip from Eugene. Though weary and tired (in part from the travel and in part due to the 16 hour time difference), the delegation was warmly greeted by smiling faces including Ludmilla Kurbatova, Eugene's long-time sister cities contact, her son Kostya, and several other local officials.

With a population of over 700,000, Irkutsk is the major industrial commercial center between western Russia and the Far East, and between Siberia and China. Built in 1900, the Trans-Siberian Railroad links these distances together, a major engineering feat given the harsh climate, numerous water systems and rugged terrain, requiring especially cold-resistant building materials. There are also numerous educational institutions there, and it is a tourist destination point due to its proximity to Lake Baikal, 40 kilometers to the southeast. The Irkutsk Region is vast, greater in size than the Pacific Northwest, and the city is surrounded by rivers, mountains, and beautifully rugged nature which hides its abundantly rich mineral supplies - in many ways similar to Eugene.

Highlights of the week included attending a private reception with Mayor Yakubovsky and his staff, visiting educational and medical facilities, stopping at a Lake Baikal traditional log village, picnicking on the shore of Lake Baikal on the local fish delicacy, touring the Decembrists' House, attending a youth concert at one of the performing arts centers, and participating in informal discussions with new and old friends.

Mayor Yakubovsky spent a great deal of time with the Eugene delegation; there was an exchange of gifts in connection with the 340th anniversary of the city. The City of Eugene presented a plaque depicting the two continents linked together by the Pacific Ocean and two 17th century sailing ships, or "partner ships". The 18th century exploration of northern Pacific waters was headed by Captain Bering, who finalized his plans in Irkutsk before heading east to set sail. These beginnings led to eventual Russian settlement of Alaska.

Plans are now underway to welcome an official delegation from Irkutsk in late September. For more information, contact Mary Walston, City Manager's Office, 682-5406 or Galina Groza, Chair of the Irkutsk Committee, 686-0546.

For more information see Community page of Eugene, Administration of Irkutsk Region
Link A Family
Link A Family helps establish pen-pal relationships between families in Irkutsk and the Angarsk region of Siberia and families in Eugene (and elsewhere in the U.S. and Canada). Started two years ago as a project of the Eugene-Irkutsk Sister City Committee, Link A Family has linked around 200 families.

Periodically project director Jana Nelson sends an advertisement to friends in Irkutsk via e-mail, and they publish it in a local newspaper. She matches the letters she receives with American families based on profession, family size, and age.

Initially Nelson tried to establish a regular courier service between Eugene and Irkutsk, but it proved too time consuming. Now letters are exchanged via the post. She has found that mail delivery works fairly well if people follow a few guidelines: use metered mail instead of stamps; don't enclose anything extra with the letter; and use manilla envelopes--they look more official.

Currently Nelson is looking for more correspondents in Irkutsk and environs (she has enough American participants). For more information contact:

Jana Nelson E-mail: 71564.1704@compuserve.com
---
Kanazawa, Japan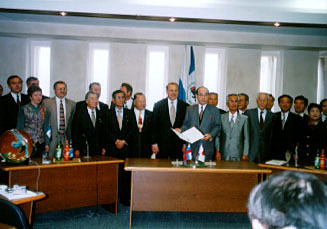 AFFILIATIONS
| | |
| --- | --- |
| Kanazawa | Irkutsk |
| Kanazawa University, the economic faculty | Irkutsk Economic Academy, Eastern College (affiliated with Far East National University) |
| Kanazawa University science faculty | Moscow Theoretical and Experimental Physics Laboratory, Irkutsk National University |
| Ishikawa Prefecture Russia Association | Russia-Japan Association, Irkutsk Branch |
INVITATION OF INTERNATIONAL EXCHANGE OFFICIALS
Assignment of Russian Coordinator of International Relations in 1998. Workplace: Ishikawa Foundation for International Exchange.
YOUTH EXCHANGE
Visits by Ishikawa Prefecture and Irkutskaya Oblast high school students to each other's countries to visit schools, participate in homestays, promote international exchange. Commencement of program in summer of 1998, carried out every year since.
ISHIKAWA PREFECTURE STUDY PROGRAM OF JAPANESE AND JAPANESE CULTURE
Three students from Irkutsk University sent to study Japanese in Ishikawa every year, beginning in 1996.
CULTURAL EXCHANGE
Establishment of Irkutsk Art Museum Display in Ishikawa Art Museum in 1997. Establishment of Ishikawa Art Museum Display in Irkutsk Art Museum in 1999.
ENVIRONMENTAL ISSUES
Head of Environmental Protection in Ishikawa and Irkutskaya Oblast to visit each other's countries every other year for information exchange, commencing in 1998.

HISTORY OF MAJOR EXCHANGE ACTIVITIES

1950

Foundation of the

Ishikawa Prefecture Branch of Japan-Soviet Union Amity Association.
(

Presently

named Ishikawa Russia Association.)

Aug.1960

Visit by

Japan-Soviet Union Amity Delegation with leader, the late Mr. Shigeyoshi Mori, Former Mayor of Neagari Town visited the Soviet Union.

Aug.1965

Visit by

Mr. Nakanishi, former governor, and his spouse to the Soviet Union at the invitation of The Soviet Union-Japan Association. (The exchange started.)

Sept.1967

Establishment of sister-city affiliation by Irkutsk City and Kanazawa city.

July.1991

"Ishikawa Week" held in Irkutskaya Oblast.

Creation of "The Protocol on Amity and Exchange".

Aug.1992

The official of Ishikawa prefecture was sent to Irkutsk for Russian language training (for 2 years).

Aug.1992

Visit by the exchange delegation of art and culture of Irkutskaya Oblast to Ishikawa to join in "The National Culture Festival".

July.1993

Official of Irkutskaya Oblast sent to Ishikawa for Japanese language training (2 years).

Dec. 1993

"Asia-Japan Fashion Show" held.

Visit by designers and fashion models from Irkutsk to Ishikawa.

May.1994

Visit by delegation of governors in Russia (Leader: Mr. Nozhikov, Governor of Irkutskaya Oblast) to Ishikawa after "Japan-Russia Governors' Conference" held in Tokyo in May.

Nov. 1994

Visit by Governor Nozhikov to Ishikawa after "The 2nd Japan-Russia Conference of Governors in the Far East" in Niigata.

May.1995

Acceptance of second trainee from Irkutsk.

Nov. 1996

Attendance by delegation of Irkutskaya Oblast at the opening ceremony of Ishikawa International Center in November (10 members including leader, Governor Nozhikov and Mr. Govorin, Mayor of Irkutsk city).

Dec. 1996

Acceptance by Ishikawa Prefecture of first students for short term Japanese language study (Attendance by three students from Irkutskaya Oblast University of Foreign Languages for 1 to 2 months.)

Aug. 1997

Mr. Govorin, Former Mayor of Irkutsk city, acceded to Governor of Irkutskaya Oblast in August.

Sept. 1997

"Art Exhibition of Irkutskaya Oblast" held at Ishikawa Prefecture Art Museum from Sept. 28 to Oct. 26.

Oct. 1997

Delegation of Ishikawa Prefecture consisting of 28 members (Leader: Governor Tanimoto) and delegation of musicians sent to Irkutskaya Oblast. (Members in total: approx. 150)
Conclusion of protocol of amity and exchange and planting of commemorative trees.

Exhibition of children's paintings, presentation of a Baikal seal, and associated concert held.

Oct. 1997

Visit by the delegation of Irkutskaya Oblast (Leader: Governor Govorin) to Ishikawa in late October.

July.1998

Acceptance of first Russian Coordinator of International Relations.

July.1998

First visit by Irkutsk exchange delegation of youth to Ishikawa (Attendance of Group of 4 Youth Summit.)

Aug.1998

Second official sent to Irkutsk for Russian language training (2 years).

Sept. 1998

The operational mission to follow up the protocol sent to Irkutskaya Oblast (6 members, including leader, Mr. Fukuda, Vice-Director of Bureau of Civil Culture).

July.1999

Conclusion of exchange agreement betweeen Ishikawa Prefecture Agricultural Junior College and Irkutsk National Agricultural Academy.

July.1999

Vice-Director of Ishikawa Prefecture Central Hospital and Curator of Ishikawa zoo sent to Irkutskaya Oblast.

Aug. 1999

Ishikawa Youth Delegation goes to Irkutsk for first time in August.

Sept. 1999

"The Art Exhibition of Ishikawa Prefecture Art Museum" held in Irkutsk in September.

Oct. 1999

Attendance by delegation of Irkutsk at opening ceremony of Ishikawa Zoo in October.

Nov. 1999

Attendance by experts on environment in Irkutsk to the Study Conference of International Environmental Protection Technique.

May.2000

Visit by Governor Govorin to Ishikawa. Presentation of Baikal Seals as symbol of friendship.

July.2000

Sending of Irkutsk Friendship Exchange Association (Leader: Mr. Nakanishi, Director of Civic Cultural Affairs Division)

July.2000

Visit to Irkutsk by Japan-Russia Friendship Association (leader: Mr. Inamura)

Sept. 2000

Attendance by two Ishikawa Prefectural Employees to Baikal Economic Forum

Sept. 2000

Participation by Irkutusk Traditional Dance Group in "Sports-Recreation Ishikawa 2000" Event

Oct. 2000

Sending of two Prefectural Environmental Safety Division Employees, Exchange of Information Regarding Environmental Problems


For more information see HomePage in Kanazawa
---
Copyright &copy WWW Irkutsk 1995-2001