Presidential elections 2000

Election chronicle in Irkutsk region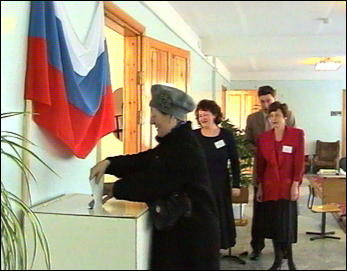 Newswires
26-Mar-2000 (Interfax) - According to early election returns, in the Far East and Siberia acting Russian President Vladimir Putin has collected the greatest number of votes.
...
In the Irkutsk region, where ballots from 36 out of 42 districts have been counted, 50.24% voted for Putin, 33.1% for Zyuganov, 4.75% for Yavlinsky, 3.92% for Zhirinovsky and 2.49% for Tuleyev. ...
27-Mar-2000 ... Both Zyuganov's and Yavlinsky's campaign staffs said they had evidence of widespread fraud. Yavlinsky's team told Interfax that election commission officials in Vladivostok, Far East, had refused to provide their observers with copies of the voting protocols, the document that tallies the results. ...
Loktionov ... said they had received information about similar fraud in the Penza region, Irkutsk and Yamal-Nenetsk. ...
27-Mar-2000 ... About 1,000 foreign election observers were sprinkled across the country's 11 time zones.
- Observers were sent to Moscow, St. Petersburg, Kazan, Vladivostok, Krasnodar, Ufa, Kemerevo, Rostov-on-the-Don, Yekaterinburg, Samara, Krasnoyarsk, Irkutsk and Volgograd. ...
Bjorn von der Esch, who heads the observer mission from the Council of Europe's parliamentary assembly, told Russian news agencies Sunday night the elections were "absolutely legitimate" and had been conducted to international standards "openly and peacefully." ...
---
Final tallies for Irkutsk Region and for all Russia:
| Candidates | Irkutsk region | Russia |
| --- | --- | --- |
| Vladimir PUTIN | 50.08 % | 52.64 % |
| Gennady ZYUGANOV | 33.05 % | 29.34 % |
| Grigory YAVLINSKY | 5.06 % | 5.84 % |
| Vladimir ZHIRINOVSKY | 3.91 % | |
| Against all | 1.71 % | |
| Participated | 65.2 % | |
---