Mme. Pola (1900-1983)
Russian-born Fashion Designer
(Contributed by Nicole Regne, her granddaughter)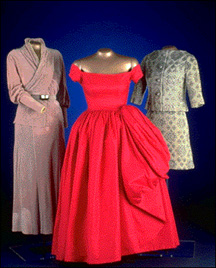 Born Appolinaria Petrovna Eroffeyevna (spelled phonetically) near Irkutsk, Russia, Pola married Vladimir Jaludsky circa 1918. Vladimir, a Military Officer, was killed in the Russian Revolution shortly thereafter, and Pola left Russia with their two small children. After residing briefly in China, Pola arrived penniless in the United States in 1924. She worked as a seamstress in factories for many years until she began designing for the house of glamorous fashion designer Valentina.

In 1937, Pola opened her own New York Salon of Haute Couture Designs, which catered to the denizens of Hollywood and High Society. Her creations were always Russian-influenced, such as gowns with dolman sleeves, and they set trends across America.


Her most famous design, the 1944 Inaugural Gown for First Lady Bess Truman, wife of U.S. President Harry S. Truman, now stands on display at The Smithsonian Institution's National Museum of American History in Washington, D.C., USA.

Pola married Nicholai Kostrukoff, Founder and Director of the then world-famous General Platoff Don Cossack Chorus and Dancers in New York in 1942. She resided in New York until her death in 1983.
The photo shown here is of three (U.S. Presidential) First ladies' gowns. The one on the far left was designed by Mme. Pola for First Lady Bess Truman for the presidential inauguration. As noted above, it is on display at the Smithsonian Institution in Washington, D.C., USA.
Links:
WWW Irkutsk
---
Copyright &copy Text: Nicole Regne (queenadine@prodigy.net), Design and contents organisation: Fedor Babanine (webmaster@icc.ru)