Prepaid GSM in Irkutsk (Baikalwestcom GSM-900)
Want to have mobile access in Irkutsk?
You receive:
Russian phone number
activated SIM card
Further prepaid connection cards which can be activated when necessary
Prices
Insurance deposit*
USD 80
Prepaid card*
USD 22
Service charge
USD 69
Shipping
country specific
(example USA and Europe: USD 30)
* will be refunded after you return the SIM-card and unused prepaid cards.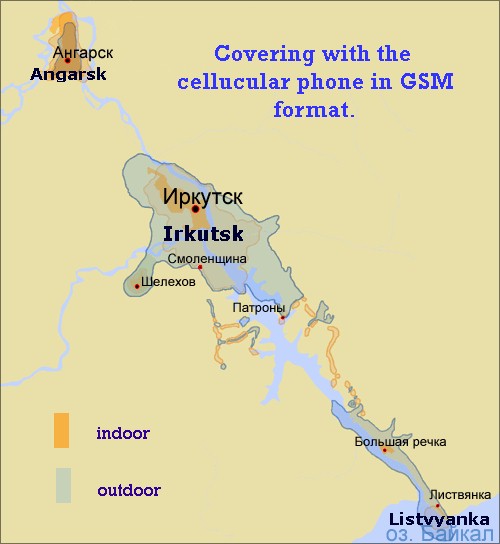 Coverage map. Click on the picture to enlarge
Connection rates in USD per minute
| | | |
| --- | --- | --- |
| all incoming calls/outgoing calls to Irkutsk | 0-6 | 0.04 |
| all incoming calls/outgoing calls to Irkutsk | 6-24 | 0.49 |
| outgoing to Russian national | 0-24 | 1.92 |
| outgoing to Europe | 0-24 | 3.60 |
| outgoing to USA | 0-24 | 4.20 |
| outgoing to all other countries | 0-24 | 4.80 |
Charge increment is 1 second starting from 1st second of call
How to order and use
Make sure your mobile phone is GSM-900 compatible (most European phones are)
Place your order at prepaid-gsm@irkutsk.org. Please include following information:

Address where we should mail your SIM card
How many prepaid cards you wish to receive (typical order is three USD 22 cards)
Approximate dates you will be staying in Irkutsk

After you have submitted your credit card payment (we accept VISA/MasterCard/EuroCard/Discover/Novus), we will ship the goods by courier service (UPS, DHL, FedEx). You will receive a tracking number by email
After you arrive in Irkuts,: plug the SIM card into your 900 Mhz mobile phone and start calling and receiving calls (provided the previous customer left some funds on the card.)
When the current card is used up, activate the next prepaid card.
After you are back home, mail back the SIM card and any unopened prepaid cards. You will receive a refund on your insurance deposit and the unused prepaid cards.
---
Copyright &copy 2001 WWW Irkutsk