Ancient winter games in the Museum of Wooden Architecture in Irkutsk
Video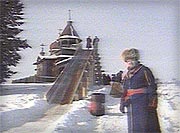 Click on the picture to play the video (Windows Media Player Format)

For Internet Explorer users the video is also available here.

For Windows users: Microsoft Media Player opens automatically if installed. Download the latest version here. Alternative MP3 players can be downloaded here
Background text in Russian:
For those who like a quick ride, the employees of the museum "Taltsy" built a traditional Russian slide and a snow carousel.

The director of the museum says that cow hides were soaked in warm water and then left to freeze in order to construct the slide. Insiders of the sport confirm that it is possible to reach a speed of 50 km per hour. People are queuing up to experience sliding down the track as fast as the wind. The administration of the museum also took some test rides to check the safety of the slide. The director says, "We tested the slide in all possible ways, going down on our behinds and so on...."

For the lovers of an older tradition, the employees also erected an old fashioned Russian snow carousel, on which you can prove your sporting spirit not only by trying to turn the carousel as fast as you can, but simply by your ability to stay on the toboggan.

---
Copyright &copy 2000 Contents organization and translation Fedor Babanine, Picture and video: ORT-Irkutsk, Russian Public Television