Land and take off at Irkutsk airport: scenery for Flight Simulator
Are you a Flight Simlator fan? Download "scenery" files and enable your Flight Simulator for flying over Irkutsk.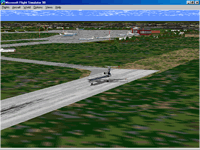 Click on the picture to start download (866 KB)
Instructions:
Download and unzip the files in a separate directory.
Use menu for importing of scenery in your Flight Simulator.
Choose "night flight" option to have the best view.
Take off and enjoy!
Source and copyright: Dmitry Kolesnik
---
Copyright &copy Contents organisation: WWW Irkutsk, 2001