Irkutsk in Europe
---
Europe House in Irkutsk
Concert in the House of Europe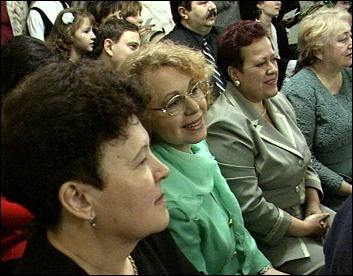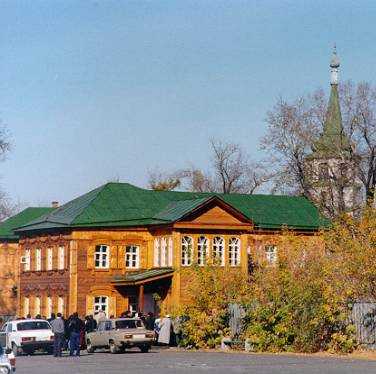 The Europe House in Irkutsk, created to support economic, scientific and cultural communication between Europe and East Siberia ("European Window to East-Siberia - East Siberian Embassy to Europe"), is a project of four countries - Belgium, France, Germany and Russia.
The authorities of Irkutsk, along with French, German, Belgian and Italian public associations, have set up an international voluntary non-commercial foundation called the House of Europe. Many of the city's higher educational institutions are being encouraged to join. The organizers were originally inspired by the idea of restoration of the city, particularly its unique wooden architecture. Today the House of Europe's purpose has evolved into one of promoting contacts between the Baikal area and the European Community countries. Plans are underway to exchange theatrical, music and dance companies, as well as book and art exhibitions; to cooperate in publishing literary works; and to hold festivals and sports competitions. Several Europe House-sponsored institutions will begin operation shortly: a center for linguistic research, a Library of European Books, a Baikal drama school, and a public relations club. Two projects have prompted special praise: an ecological project for protection of Lake Baikal and a new program prepared by the Irkutsk Academy of Economics for training economists.
Activity areas of Europe House:
professional education;
foundation of small and medium enterprises (SME)
communication of offices
renovation of historical downtown in Irkutsk
international exchange of students, schoolchildren, teachers, lecturers
implementation of scientific and economic research, cultural and social projects, etc.
The Europe House has a non-profit legal status. The city of Irkutsk has provided a nice wooden house in the museum quarter of Irkutsk for the work of the Europe House. In March, 1998, the European Union decided to sponsor the foundation of Europe House in the framework of a EU-funding program.
The Europe House was founded on October 23, 1998, by 17 members in Irkutsk (Irkustk Administration: 7 pedagogic and scientific , 5 societies and individuals, 4 private companies) and 5 members from Europe (4 partner societies and a consulting company from France).
The building: The wooden house was built in 1840 by a businessman named Kuznetsov, who later became governor.
European partners:
Deutsch-Russische Gesellschaft Pforzheim - active in exchanges since 1987 (contact: Katharina Leicht, Baumstr. 2, 75242 Neuhausen, GERMANY, Tel.: +49-7234/980430, Fax: +49-7234/980432, Email: KFJLeicht@t-online.de)
Europe-Baikal - founded in 1993 in Bordeaux - active in renovation of historic downtown in Irkutsk and exchanges)
Forum Europe Cultures - founded in 1993 in Belgium - active in culture, upbringing, professional education
Eurcasia - founded in 1992 in France - active in culture, sports, science, ecology and economy
Current activites in Irkutsk: European Cultural Centre in the Europe House, coordination of cultural projects with European partners, library and video collection, language courses.
Address: Ul Dekabrskikh Sobytyi 107B, Irkutsk 664007

---
British Council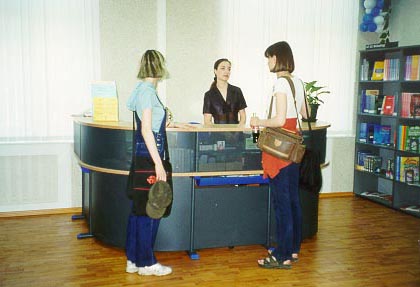 The centre invites all those with an interest in Great Britain and the English Language to come and make full use of this centre. The Centre's information service provides free information and advice on many aspects of living and studying in Great Britain, as well as the use of reference materials, dictionaries and encyclopedias in English. The centre offers educational and methodological literature, including audio and video materials, plus a collection of modern British videos. For those interested in IT, the computer centre provides free Internet access for research into subjects linked with Great Britain.


Homepage: http://www.britishcouncil.ru/infoexch/irkutsk.htm

Telephone: +7 (3952) 211171 / 72, fax +7 (3952) 211172
---
Search document library at www.europe.eu.int
Search document library on Irkutsk - current projects, funding opportunities, support of small business
---

Tacis Technical Office
c/o Irkutsk State Economic Academy/Faculty of Law
Ul. Gorkogo, 22
4th Floor, Room 407
664015 Irkutsk
Tel.: +7 (3952) 242680
Tel./Fax: +7 (3952) 242572
Email: itacis@online.ru
Contact european partner:
Mr. Jan-Anders Hedenquist
Company Education & Development
Frodegatan 17B
753 25 Uppsala
Sweden
Phone: +46 18692325
Mobile: +46 709 170 150
E-mail: jan.hed@oden.se
See their webpage for details.

---
Office of French Culture Attachee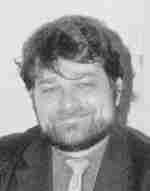 The head of office is Lorraine Atalle (on the right), representing Culture Department of French Embassy (Moscow). The goal of his presence is promotion of French language and culture, as well as diplomatic representation of France in Irkutsk area.

The activities include:
summer school of "advanced French" in Strasbourg and Cannes for Irkutsk teachers of French language, engineers, programmers, economists who speak French.
Seminars in Irkutsk schools, provision of school books of modern French.
Contacts in the area of medicine.
Organizaion of visits of French artists, writers and painters.
Culture coordination of Franco-Russian relations.
Contact:
Attachee of Embassy of France
Room 314
ul. Lenina 8
664000, Irkutsk
Phone/Fax: 242769
---
DIZ - Deutsches Info-Zentrum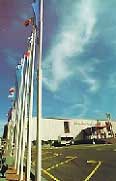 The German information Centre in East Siberia

The major objectives of the Centre:
to inform the governmental and private organisations in Siberia (upon their requests) about German products and technologies;
to contribute into establishing direct mutual business relations, co- ordinate the joint projects and training the specialists;
To organise:
German conferences in Siberia and Siberian conferences in Germany
Business trips to Germany
Specialised exhibitions in Siberia and Germany
To send the experts of the SES (Senior Experts) of the German Economy to the governmental and private organisations in Siberia (upon their requests) to provide practical help.
German representative in Irkutsk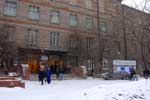 Dipl.-Ing. Johann Dück
DIZ-Ostsibirien
82, Lermontowa Str.
664074 Irkutsk/RUS
Tel./Fax: +7 (3952) 25 81 01
Tel.: 25 58 51
Email: dueck@diz-sibirien.de

The office is situated in Irkutsk Building College (Stroitelnyi kolledzh)

Contacts in Germany:
Dr. Hansjörg Droescher
Tel./Fax +49 (6251) 399 45
Email: droescher@diz-sibirien.de www: www.diz-sibirien.de

Postal address:
INDUSTRIE-BERATUNG
Hintenausweg 7
D-64625 Bensheim
Processing German visas
The center serves as a representative of German Consulate in Novosibirsk, accepting applications for German visas. Applications are sent to German Consulate in Novosibirsk, turnaround is about 1 week.

Hotline: 444400

Address: Baikal Business Center, Office 104 b, open Monday through Thursday 10am-5pm.
---

&copy Copyright, 1995-2005 (webmaster@icc.ru)