Virtual Embankment
Enjoy a virtual walk at the Embankment of Irkutsk, around the Discoverers' monument. You will need the VRML Virtual Reality viewer. Download it here (Windows).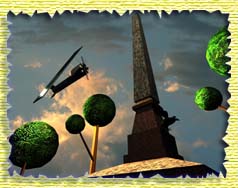 Click on the picture to start download (615 KB)
Instructions for viewing
Wait until all textures are downloaded.
Click View for automated steps through the embankment.
You can click on various objects; some of them are animated.
You can walk around using your mouse.
---
Copyright &copy Contents organisation: WWW Irkutsk, 1999