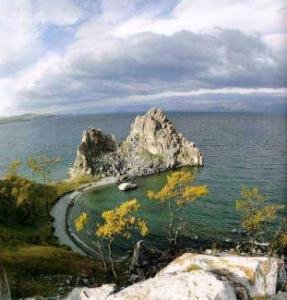 .

Family Bed and Breakfast
"Baikal Home"

In cooperation with WWW Irkutsk Information Centre



---
Location:
Living area of the Irkutsk Research Centre of the Russian Academy of Sciences. 15 minutes by bus from the city center, 45 minutes by car to Baikal Lake
Description:
You will have a separate single or twin bedroom. Bathroom and toilet facilities are shared with another bedroom.
Ownership:
The "Baikal Home" B&B is run by a family of researchers, both doctors of natural science.
---
Rates:
    Single Occupancy: 
    $40.00 per night, including Russian breakfast
    Double Occupancy:
    $50.00 per night, including Russian breakfast 
---
Policies:
Reservations must be guaranteed 14 days before arrival by a 20% pre-payment of your order
Balance payable in cash on arrival.
We accept one-night stays, however, we reserve the right to substitute room choice to accommodate longer bookings.
Smoke-free home, but a covered smoking area is provided outdoors.
Children are welcome!
Additional services:
Russian Visa (allow 6 weeks)
Transportation from airport
Reservation at Dacha (village house) in the Baikal shore area
Hot Russian meals
E-mail, fax, telegrams
Car with driver
Automatic washing machine and dryer
"Baikal Home" is a hosting partner for the Earthwatch Ecological Expedition to Lake Baikal.
---
"Absolutely the best way to see Russia - we already want to go back."
Henry & Jessica Townsend, Washington, USA
"We feel that we became true friends with our host family."
Jean Tinel, Claude Palazzo, Dijon, France
"The food was great and the family took wonderful care of us every minute."
Thomas Vollmoeller, Hamburg, Germany
"We feel like we made friends we will keep in touch with forever."
Masayuki Hirokado , Tokyo, Japan
"We have a much better understanding of this intriguing country than if we had just taken a traditional tour."
Darquise Hoffman, Toronto, Canada
"That we would be laughing, touring with persons from literally the other side of the world, is incredible to me."
Hans Meyer, Australia
"We saw things and participated in activities we would not have been able to in a regular guided tour."
Derek & Stella Fairbairn, Banbury, England
"It was a privileged time for us."
Carlo Volpi, Milano, Italy
---
Booking status:

N/A, inquire by e-mail
---
Book your room now:
reservations@irkutsk.org
If your browser doesn't support mailto forms, send e-mail to reservations@irkutsk.org from your usual e-mail program.
---
&copy 1998, 1999, 2000, 2001 B&B Baikal Home